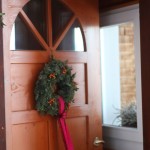 Roast figs with honey and  Port wine…
Select beautiful ripe figs – I like to roast approx. two per person.
Slice your figs in quarters and drizzle generously with honey and vintage port …
Put in an ovenproof dish preferably cast-iron or earthenware with a lid and bake in a hot oven for approx. 15min.
I love to eat this just as it is with all the fabulous juices in their abundance…but you can also serve it with homemade vanilla ice-cream.
It's completely decadent! J'adore!
* * * * *