Winter Games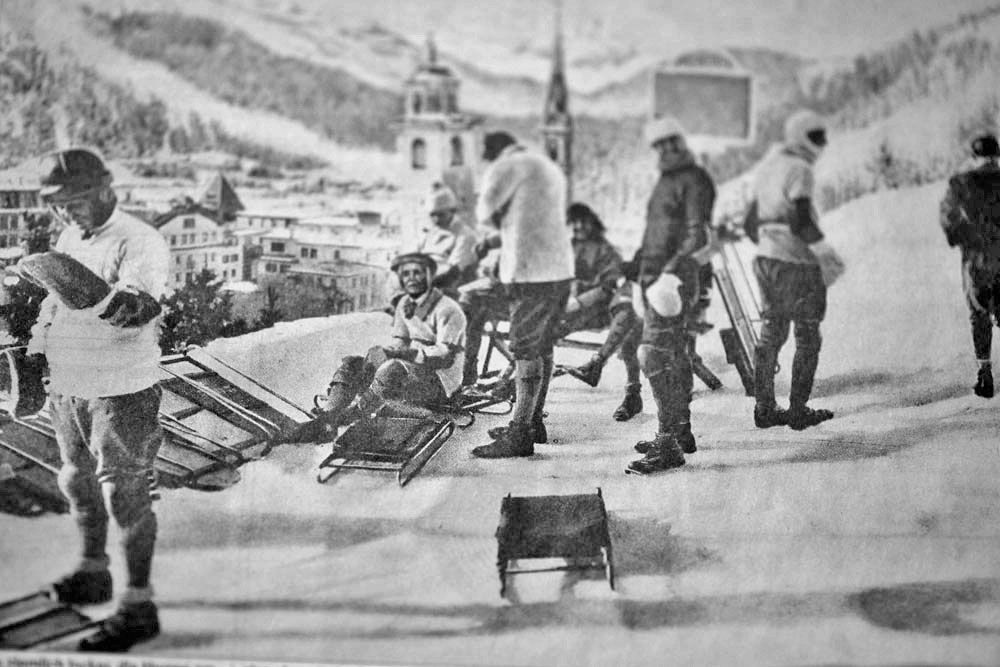 Anyone who watched Carlo Janka taking a lead in the  World Cup ski standings, winning by a hair at Garmisch yesterday has to be filled with a sense of wonder and awe. The 23 year-old's chances of winning the Crystal Globe now can be rated as  'good' with only three races left in the season.  I was buying track shoes  for my daughter in a sport shop a few months back when the Lauberhorn race was being broadcast and found myself fixed to the screen. Really thrilling to watch this young man win… I just might have to go to Wengen next year to experience the hype for myself!
* * *
The above photo was taken before the start of the Cresta Run in St.Moritz in 1928. It always seemed to me to be a bit of a crazy idea to race head first in a canal of ice down a very steep track but here it has tradition. In 1948 there was another Olympic race and since 2002 the more tame version of the Run called the Skeleton has become  an established discipline in the Winter Games, also for women.
Since its beginnings, the Cresta Run was famous for being a bone-breaker of a race. The young men reaching a speed of up to 140 km/h headed down towards Celerina. Despite the padding, the  knee, elbow and head protection – if the young men flew off course, the hard fall was buffeted by straw alone!
Whoever flew out at the legendary Schuttlecock-curve was taken into  a club. A club of a very special kind – one that hosts a gala dinner for its members annually and gives them the opportunity to tell all about their stay in hospital…
I think this shows the spirit of Swiss Winter Games at its best. As well as celebrating their wonderful young athletes and ski-champions, there is also a club for the people who didn't take the curve – how wonderful is that!
Hopp Schweiz!
* * *