Things I love… No. 44
Les Très Riches Heures du Duc de Berry
Finding things…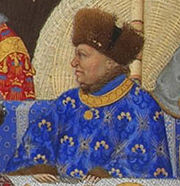 The original manuscript of the Book of Hours by the Limbourg brothers is in the Musée Condé in Chantilly castle and can unfortunately only be viewed by art historians and students wearing white cotton gloves. Painted in 1410 – 1416, these intricately coloured plates are rare inventories of a time gone by. It's as much a book of prayers as it is a book of nature.
The artistic arrangement is ingenious as the artists have an unusual way of suggesting space. The foreground and background are so intermingled, in the above plate, that it's difficult to distinguish between what's happening in the pictures on the tapestries to the back of the room from what is actually happening in the foreground!
This is January and the words, "aproche, aproche!" are written appropriately on the wall. It is thought that the newcomers entering the scene from the cold outdoors are none other than the Limbourg brothers themselves. The Duc de Berry, third son of the King of France at the time, is seated in regal blue with a fur hat to the right. Born too late to receive political power but as often happens, fate re-established the balance – his name will always be associated with beauty even if most art historians have little good to say of him, describing him as a vain, self-seeking exploiter! We still have him to thank for the priceless heirloom that is the "Très Riches Heures".
Having survived the vicissitudes of time, the manuscript was discovered in the year 1855 in a boarding school for "young ladies" in Italy… by the Duc d'Aumale who knew immediately, while carefully studying the fragile sheets, what a masterpiece he held in his hands. He immediately recognized the Duc de Berry's coat of arms and many of the castles depicted in the miniatures. What a find!
The manuscript had travelled from the de Berry family to the Spinola family in Genoa and later to the Marquises of Serra, who were now offering it for sale. When the Duc d'Aumale at last ventured to enquire about the price and was told it would be 18,000 gold francs, he merely nodded in assent and withdrew in haste to cover his excitement. Some weeks later he was in possession of this unique work.
Serendipity!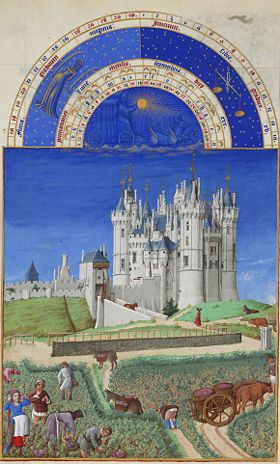 September, another favourite month…
The castle is Saumur, situated in a district which is, to this day, famous for its wine.
* * *
Photos: The Duc de Berry's Book of Hours, Hallwag Ltd. Bern, 1962