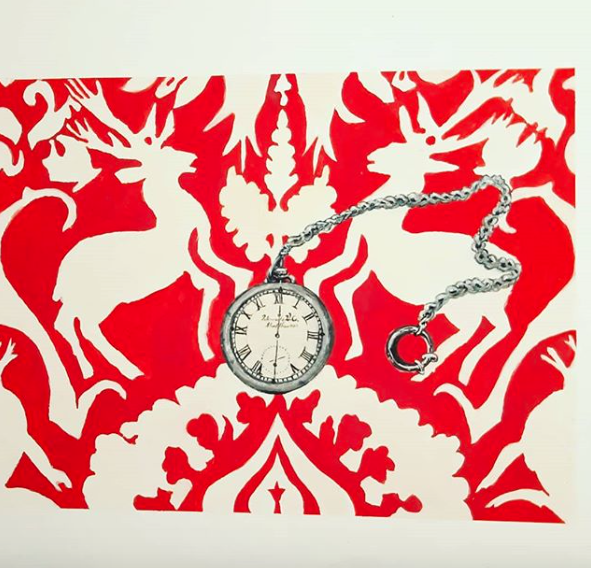 The Gift of the Magi
---
As a young couple, Remo and I gave each other the same little book for Christmas. The girl in the short-story reminded Remo of me because she had long hair and the boy in the story reminded me of Remo because he owned a treasured pocket watch.
I paint things around me that I love – it's a bit like a visual journal. I have always wanted to paint Remo's watch and this year I decided to do so and send it out as our Christmas greeting.
The image of his time-piece reminds me to take that time in between the years, traditionally known as the 12 holy nights, which begin on 26th and end on 6th January, with 3 Kings' Day. Here in Switzerland, the day is celebrated with a special circular bread made up of 6 bread rolls. Inside one of the rolls, a tiny wooden, or on very special occasions a golden, king or queen is hidden. Whoever finds it, receives a little golden crown and gets to be king or queen for the day.
The 12 holy nights are said to be an important time for reflection – this time between the years, and the dreams one has are said to correspond with the 12 months of the following year. In Switzerland, people take time to look back at the old year, bless it and make plans for the new one. The image of Remo's watch also reminds me, not only to take stock but also to make every moment of every day count and to cherish each new experience which the new year has in store.
In this sense, we would like to wish you a
Merry Christmas and a wonderful New Year
Filled with memorable moments
And many blessings
* * *