Things I love…No.113
The Bootery Bush… and Kandahar
When my mother told me stories of how the sticks of the 'bootery bush' were used to measure the length and breadth of children's feet in rural Ireland; how the father would pack these little bundles, two per child, tied up with string and labled with all the childrens' names into his bag and go off on horseback to buy shoes for the whole family in one go, I thought the idea most practical… I can imagine that the 'bootery bush' must have been a willow with its long straight shoots or perhaps a hazle which can be found growing wild in most of the hedgerows throughout the Irish countryside.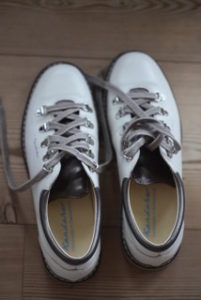 Whilst getting my feet measured by Manuel von Allmen a few weeks back, those sticks came to mind as the individual measuring of each foot is part and parcel of the luxury of getting shoes to fit, tailor-made so to speak. I wasn't acquiring just any shoes but the legendary 'Kandahar' – made to measure! Every winter my old dark brown seal-skin Kandahar come out of hibernation to keep my feet warm and dry… and as the soles don't slip either, over the years living atop a mountain in the Swiss Alps, they have become my absolutely favourite winter boots. Meeting Manuel after Christmas this year, I found out that Kandahar also stocked light spring shoes too, so I was of course, very interested! They are so 'me'! Like the winter variety, solid shoes made for the outdoor girl I am, but stylish too!
My parents were adamant that we wore 'sensible' shoes, so shortly before the school term began in September, every year around the same time, we would go off to Dublin to find good strong leather shoes, ones that would withstand the worst Irish weather. We were never allowed to wear each other's shoes as my mother believed strongly that one's personality developed, just the way our feet and toes were shaped and how our features were formed – at its own pace and was thus inherently different and extremely individual. Once worn in, a pair of shoes, like a fountain pen, takes on one's own personal signature. It was therefore obvious for me even as a child, that you could never put your feet into anyone else's shoes…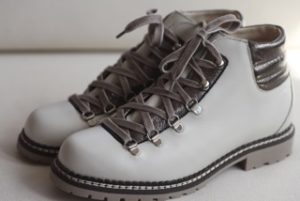 This very individual attitude is one that is echoed in the philosophy of Kandahar. After the measuring of each foot, the leather is carefully selected, as is the type and colour of the sole material… the lining, fur or leather depending on the season, the colour of laces… the only thing that doesn't vary is the quality – I don't even need to mention that the quality is the highest imaginable. Everyone in Switzerland knows that Kandahar has a long tradition and if you had to whittle it down to one word, it would have to be – quality!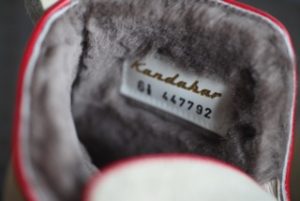 A few days ago the parcel arrived. I knew what was inside but I was still incredibly excited… I sent Remo a text message as he was at an all day event but I couldn't wait till he got back to open it!
My mother would be so proud –  'sensible' shoes and not only sensible but incredibly hip ones too! Each shoe has a registration number so that specific information about that particular model, month and year of production etc., can be traced.
Inside my spring shoes, 'Engadin' the inscription, Kandahar is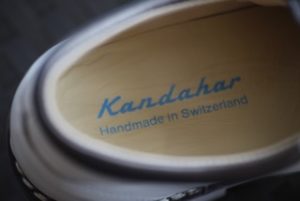 marked onto the soft cream leather in robin egg blue, followed by  'handmade in Switzerland' and I think to myself, what a wonderful piece of Swiss craftmanship I am wearing on my feet!
The history of the company goes way back – in the photo below you can see Manuel's grandfather, Fritz von Allmen, in the Alps. It was in the golden twenties that he noted that there was a 'slow' period between early summer and autumn when the shoemakers in Mürren, not being particularly productive, were simply waiting for customers, so he began making his own boots. He went into proper series production in the thirties.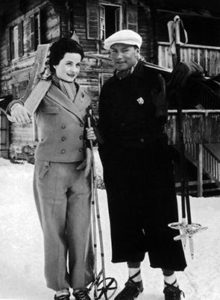 The name Kandahar stems from the ski-club of the same name, based in Mürren, for which he developed a high quality Après-ski boot.
* * *
Being an avid skiier himself, Fritz von Allmen knew first hand the type of protection necessary in alpine sports. The boot had to be comfortable, light and have a good sole which offered optimum insulation. His son and grandson are continuing with the traditon, offering the same high quality service and customer satisfaction…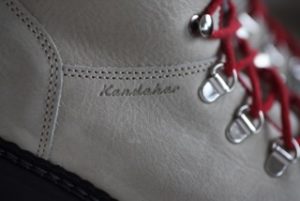 I for one, simply LOVE my Kandahar…
* * *
photo of Fritz von Allmen, courtesy of Kandahar @copyright