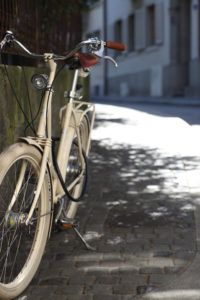 Things I love… No. 58
It's summer (even though it's just April, the temperatures are soaring) and a trip to visit gardening colleagues in 'downtown' Zürich brings us along pretty pathways and through little back alleys with roof gardens filled with potted plants, oases hiding where one least expects… climbing plants – Kiwi arches pushing green. Not only does art serve to 'wipe the dust off one's soul' but so too, does nature. And nature in the city especially. In passing, open windows allow a few notes escape – someone's playing the cello… Summer in the city!
Our tortoise came out yesterday -always a special day! The yearly ritual of washing her and placing the first green leaves and fruit pieces in front of her – in which she seems to be totally uninterested to begin… Every time she comes out of hibernation she seems so much bigger, has grown during the silent time under the earth and heaped up leaves in the greenhouse. For our girls it was always a real event when she re-appeared. Seemed like magic. Magic that for one, she could survive the winter without food by lowering her body temperature and putting all her bodily functions 'on hold' and just wait – for spring again.
This year it has been amazing though – we went straight from winter to summer without the blinking of an eye-lid… moi, j'adore…
Roll on summer 🙂