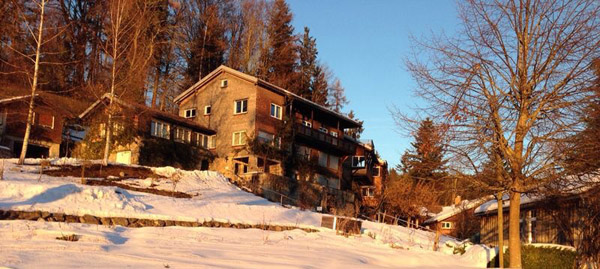 There is a time in between the years – in German it is referred to as, 'Zwischen den Jahren' – some speak of the twelve holy nights where one is well advised to listen carefully to ones' dreams as each depicts, in some way or other, how the following twelve months might unfold. I try to remember mine but somehow I always seem to wake up at the tail end of an interesting dream and the more I attempt to retrieve the strains of meaning or continue dreaming, the more it fades…
I am sitting in one of the oldest libraries in Switzerland working at yet another book translation – this time German/English. The sound of children playing outside the second floor window atop a heap of snow is muffled now as someone just shut the window. In here, only whispers… the place is full. It is January and for the students of the nearby University that means learning modus as Semester ends soon and exams are pending. If you are not here before 9am, no study booth!
I was looking through the notes on my cell phone while taking a 'neck brake' i.e. leaning back from sitting at the edge of the stately old wooden chair to look at my phone and stretch my legs. It was a bit like a 'Zwischen den Jahren' reflection, going through the snippets of text, sometimes only one word that puzzled me and forced me to look back at the year that is lying behind and one that already feels so far away. We are always closer to what is in front of us I suppose, or preferably, in the present tense. Lots of notes though  – some, I remember why I jotted them down… Others, I have absolutely no clue. A couple of words laced together seem like a riddle but as I have a habit of jotting down song lyrics, those get put in that category.
One note written precisely a year ago on 5th January, contained the four virtues according to Lao Tze and although I am not a friend of rules and strategies or dogmas, here they are because at the beginning of this new year they just seem to make sense:
Reverence for all of life – respect
Sincerity – honesty (for the business world, integrity )
Gentleness – kindness (so underestimated…)
Supportiveness – service…
Living like that could light up the world.
* * *
The other notes are an eclectic mix – the contact details of good restaurants or places to eat in Vienna, Paris and London – yes, I was back in spring and will be going back this spring again for my graduation ceremony –  the real thing, with tossled hat and cloak! Then in between a friend's list of 'favorite five films', a few book titles, some words in Rumantsch, the simple but wonderful combination of radishes and hard boiled eggs we ate in the Sand-Seele while cycling around Lake Constance, an on-line dvd order service link, two library log-in codes and the name of an especially good wine, (that brings back memories too), I find another note that makes me stop in my tracks… A short one, just two words – never criticize! Like, 'never try to change anyone, except yourself ' – an important one.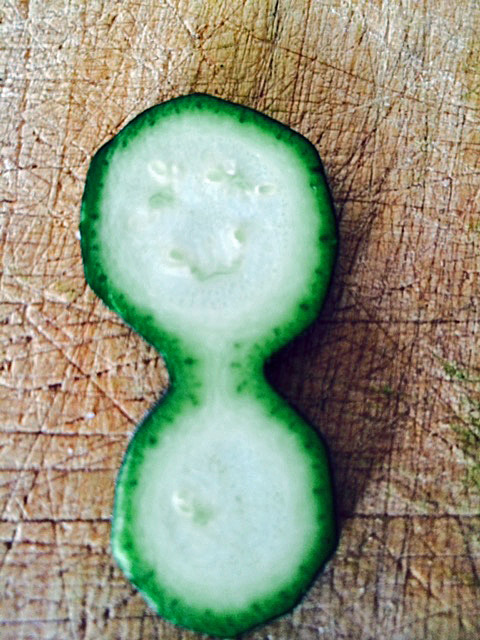 Looking back at the old year –  it is nice to remember eating with a great bunch of musicians in the best Japanese restaurant in Zermatt, seeing the majestic Matterhorn and that unforgettable night at the Ivy in London and Ronnie Scott's afterwards, (thanks so much Korda!)  as well as all the culinary highlights in the legendary Helvetia closer to home, (thanks Helmut and Sylvia… you are hosts from heaven…), but it is also good to recall the little things too, the ones that keep us afloat… on this rocky sea we call life.
Simple but wonderful things like friendship and smiles. This one I found inside a zucchini from our garden, while cooking…
I read somewhere that at the beginning of the New Year it is wise to look back at what disappointed you most about the last year – and what lessons you learned.  Recalling  your accomplishments is a good thing too.
So remember to make use of these silent days and the big wide world of ideas – in between the music …
'Peach and plum trees do not speak yet the world finds a path to them'
* * *
(From Infectious Records, Listen to The Temper Trap's "Sweet Dispostion")

* * *