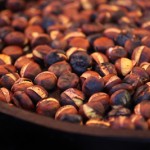 Well, I can't just tempt you with the blueberry crumble as blueberries are out of season now and a whole year away.
So what about a fabulous chestnut cake without flour… I'll add the recipe below:
Chestnut cake
150g           icing sugar
3                beaten eggs
1                packet of vanilla sugar
1                packet of chestnut purée (180 – 200g)
200g           ground hazelnuts
90g            melted butter
After mixing all the ingredients together, place the cake mixture into an oblong shaped cake-form which has been lined with pergament paper and bake in the middle of a medium oven (180°) for 45 – 55 Min.
Important
The cake should be very moist on the inside…
While still warm, sprinkle with icing sugar.
Serving suggestions
Serve with vanilla ice-cream and grapes….
* * * * *