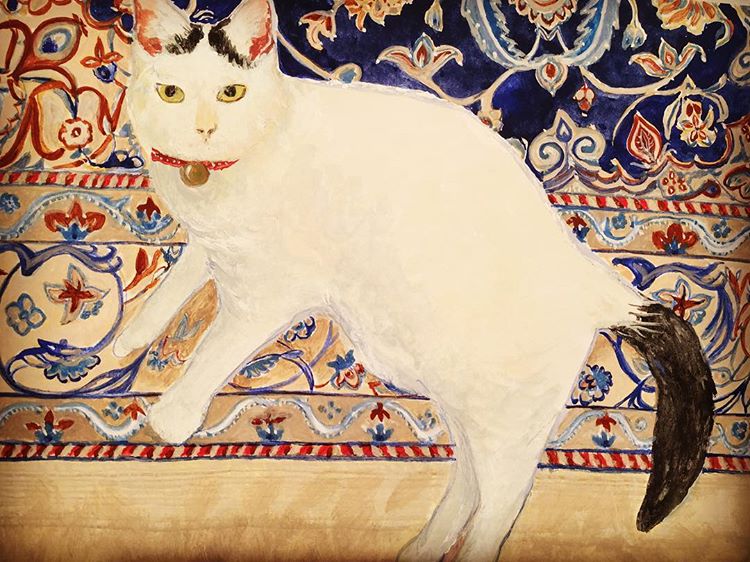 ---
A  Christmas Cat on a Persian Carpet
On Seraina's ninth birthday she received a pair of shiny white, brand new ice-skates and a lady called Gertrud Schnee, yes, she was really called Mrs Snow, gave her a snowy white kitten with a black tail and some black on her ears. Schneeflöckli, or snow-flake as Mrs Snow named her, was so fluffy that one day I called her a cuddly pudding. The name Puddy somehow stuck. Puddy however, became awild cat, out and about all day and sometimes even at night, looking for mice and foraging in the forest. Only Seraina could hold her or stroke her. She was a great cat to have in a garden but I had to put a red collar with a bell around her neck to warn unsuspecting birds that she was approaching….
When we moved down to the village this spring Puddy came with us but we were sure that she would go back up the hill and return to her old hunting grounds. We were more than surprised that she didn't and that she even appeared to love her new life here with us in the relatively tame world of Rosenhügel… Retired life seems to suit her perfectly! So much so, that most of the photos in our family chat were of Puddy in some new place she had found to lounge and enjoy, either in the sun or in the shade… a bit like Hokusai's many views of Mount Fuji.
The image on this year's Christmas card is therefore one that we see as the snow is falling outside onthese long winter evenings, and Puddy lays at our feet purring, the epitome of contentment.
Wishing you many happy and quiet, stress-free hours over the Christmas season and throughout the coming New Year.
* * *